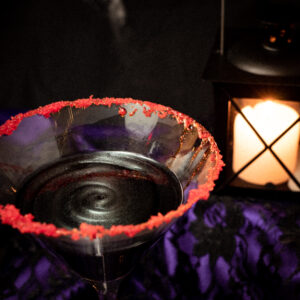 This prickly potion is guaranteed to enchant your fellow ghouls as it combines a sweet yet sour blackberry muddle with a glittering surprise and the best of the King's whiskies. Open your potions books and stay for a spell to create this mesmerizing Halloween cocktail.
Handful of blackberries

Juice of half a lemon

2 tbsp sugar

1/2 oz orange liqueur

1.5 oz King's Blackberry Whiskey

1.5 oz King's Bourbon 

Splash of soda water 

Black food coloring (optional)

Orange food coloring (optional)

Edible glitter (optional)
Martini glass or cauldron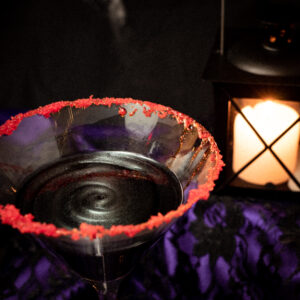 Step by Step Instructions
Step 1
Mix the orange food coloring with half of the sugar if desired. Then, dampen the rim of your glass with lemon juice and dust with the orange sugar mix.
Step 2
Next, muddle blackberries with the remaining sugar and lemon juice in a cocktail shaker. Then, add orange liqueur, King's Blackberry Whiskey, King's Bourbon, and ice.
Shake to combine and chill.
Step 3 (optional)
Stir in black food coloring and edible glitter to the shaker mixture.
Step 3
Finally double strain with strainer and mesh sieve into your sugared glass, and top with soda water. Serve immediately.